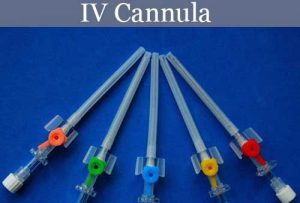 An IV cannula is a technique that is utilised in order to place a cannula into a vein in order to provide some form of venous access. This sort of access will allow medical professionals to get a blood sample, as well as infusing fluids to the patient to avoid dehydration and at the same time, providing vital nutrients, medications, chemotherapy and other transfusion.
The cannula itself is a small tube that is inserted into the body in order to either deliver or remove fluid or for gathering data that can be examined to identify potential problems that a patient is experiencing.
The IV cannula is tiny and very flexible, so it can easily go into one of your many veins. The most common place for it to be inserted is the back of the hand or into the arm. One of the ends will lie inside of your vein while the other end has a small valve that sort of looks similar to a tap.
Once the cannula has been carefully inserted in a sterile and careful manner and there are no other hitches along the way, it can usually stay in the vein for three days or so.
Different Types of IV Gauge Needles
One of the of the important things to know when starting an IV is the proper needle size to use. IV needles are sized by gauges, and the smaller the gauge number, the bigger the needle will be.
As a new nurse, you may find it difficult to spot the different sized gauges. Luckily, most manufacturers color code their IV needles. Here's a little rhyme you can use to help you remember what colors correspond to what sized gauge: 22 is blue and 18 is green. Pink is the one in the middle.
There are other IV gauge sizes besides those, although they aren't as common. There is a size 24 gauge that is mostly used for pediatrics due to its small size. There are also 16 gauge needles that are used primarily for ICU or surgery.
Nevertheless, 18, 20, and 22 gauge is the size you'll encounter most frequently in most areas of nursing.
IV Catheter Chart
Always select the smallest gauge peripheral catheter that will accommodate the prescribed therapy and patient need. Peripheral catheters larger than 20G are more likely to cause phlebitis. Do not use peripheral veins for continuous infusions of vesicants, parenteral nutrition or infusates with an osmolarity of 900 mOsm/L.1 External catheter diameters, length and water flow rates are variable among each brand of catheter, with the dimensions and flow rates listed below being approximate. Fluid flow rates in actual patient use, are influenced by the type and viscosity of fluid, fluid temperature, height of the container and the use of needleless connectors. There are numerous factors that could also affect fluid flow rates, once the catheter is inserted into a patient.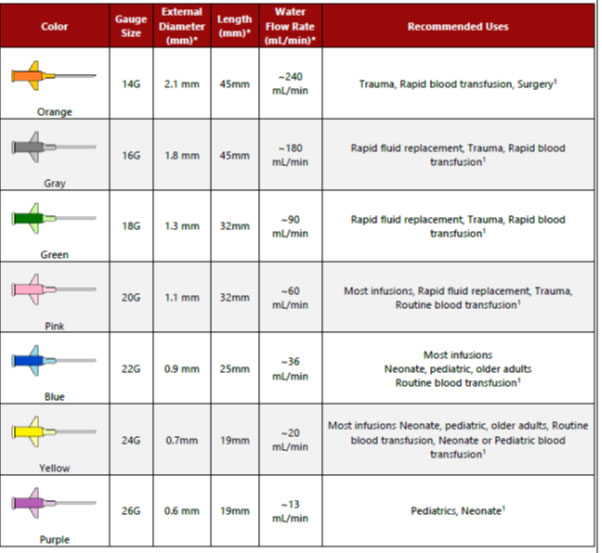 The Importance of Selecting the Right Gauge
The reason it's important to use the right gauge is because some nursing procedures can only be done with a particular sized needle. For example, if you have a patient who needs to have his or her blood drawn, you'll want to go with a gauge large enough to do it. Otherwise, you may end up having to re-stick them with the properly sized gauge. This can cause the patient frustration and pain.
Therefore, whenever you start an IV on a patient, you want to ask yourself what type of procedures your patient will be having while in your care. Here are some common uses for the different gauge sizes, generally speaking. (NOTE: Always follow the protocols set forth by your employer or Board of Nursing when selecting gauge size).
16 Gauge: This size is mostly used in the ICU or surgery areas. This large size enables many different procedures to be performed, such as blood administration, rapid fluid administration, and so forth.
18 Gauge: This size allows you to do most tasks that the 16 gauge can, but it large and more painful to the patient. Some of the common uses include administering blood, pushing fluids rapidly, etc. You can use this for CT PE Protocols or other testing that requires large IV sizes.
20 Gauge: You may be able to push blood* through this size if you can't use an 18 gauge, but always check your employer's protocol. This size is better for patients with smaller veins.
22 Gauge: This small size is good for when patient's won't need an IV long and aren't critically ill. You usually can't administer blood* due to it's small size, however, some hospital protocols allow for 22 G usage if necessary.
24 Gauge: This size is used for pediatrics and is usually only used as a last resort as an IV in the adult population.
*Always check with your hospital's protocol about blood product administration. Most hospital protocols will outline for you what gauge of IV needles you can use for blood product administration. Some hospitals allow you to use 20 or 22 gauge IV needles in the adult population, however, some do not and may require a central line. So, always check with your organization's policy.
Different Types of IV Cannula
IV Cannula without wings without port :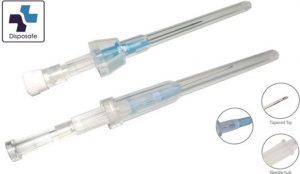 I.V. Cannula with wings with port :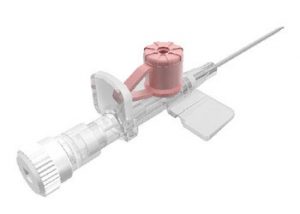 IV Cannula with wings without port :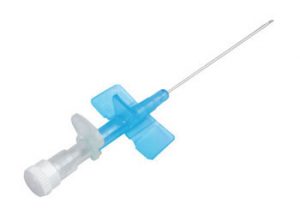 Inspection and Checking
Outer Dia checking of needle injection port wings: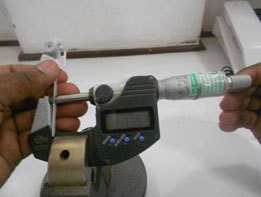 Outer Dia Checking of catheter

Profile projector machine: