Flow Coupling, Blast Joints, Pup Joints, Crossover pup joints and Measurement Checking
Flow Coupling and Blast Joint
Flow couplings and Blast joints are thick-walled tubular components normally utilized in completions and located adjacent to changes in the tubing ID or across from perforations.
Blast joints
Blast joints are constructed similarly, with connection OD and are available in 10- or 20ft ( 3.0 or 6.0-m) lengths. The blast joint is placed in the tubing string adjacent to perforations. The thick walls of this tube resist the erosive blast of fluid from the formation, which often carries abrasive solid particles.
The blast joint is used in multiple-zone wells in which the tubing extends past a producing zone to deter the erosional velocity of the produced fluids and formation sand from cutting through the tubing string. In most cases, the blast joint is simply a thick, heavy wall joint of steel pipe. However, there are also more sophisticated designs that use materials such as Carbide® for severe service applications. Care must be taken when running and spacing out the tubing string to position the blast joint evenly across the open perforations. It is wise to run enough length of blast joint to provide 5 to 10 ft of overlap across the perforations to allow for errors in tubing measurements.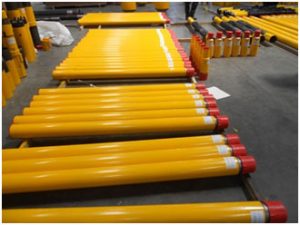 Flow couplings
Flow couplings are used where erosional turbulence caused by changes in the tubing ID is located in the thicker wall of the flow coupling, rather in the production tubing, Flow coupling are generally connection OD and are available in 3-, 4-, 6- and 8-ft ( 1.0-, 1.3-, 2.0- and 2.7-m) lengths.
Flow couplings are usually the same OD as the tubing couplings and have the same ID as the tubing string with which they are run. They are run above and below any profile seating nipple and sliding sleeve in which it is anticipated that the turbulence created by the flow through the nipple restriction can reach erosional velocity and damage the tubing string. The flow coupling does not stop the erosion. Its thick cross section will extend the life of the completion, because more material must be lost to erosion before failure occurs than in the case of the tubing string alone. Flow couplings are recommended when a flow-control device is to be installed on a permanent basis (i.e., safety valve or bottomhole choke).

PUP Joints
All standard lengths (2′, 3′, 4′, 5′, 6′, 8′, 10′ or 12′), but any length can be specified. The API length tolerance is +/- 3″
Available in API and proprietary steel grades, including stainless steels and high alloys
Available in API, VAM and other premium threads.
Pup Joints are used for:
Adjust the length of casing/tubing string to match the required total length
Adjust length of sub-assembly to appropriate handling length.
The performance of the pup joint is expected to be the same as the casing /tubing.
Compensate for standard range length tolerance of casing/tubing
Optimize handling of the down-hole equipment at the rig site.

Crossover pup joints
Crossover pup joints are manufactured from seamless mechanical tube. As with all Crossover products, each piece is marked with a distinctive job number and heat number that is fully traceable. A complete range of sizes (1″ to 4.5″), weights (standard or heavy wall), and grades (J-55, N-80, L-80, and P-110) are commonly available from stock in 2′, 3′, 4′, 6′, 10′, and 12′ lengths. Lengths up to 20′ are available upon request.
API Tubing Pup Joints

Measurement of Products
Manufactured according to API Spec 5CT using prime API monogrammed, seamless oil country tubing. Optional diameters, lengths, weights, and grades are available upon request.
| | |
| --- | --- |
| Diameters: | .75″ through 4.5″ nominal O.D. |
| Weights: | Standard or Heavy Wall |
| Lengths: | 2, 3, 4, 6, 8, 10, 12 ft. Standard (Lengths up to 20′ available upon request) |
| Grades: | J-55, N-80, N-80 Q & T, L-80, P-110, 13-CR and other premium grades |
| Connections: | EUE, NUE, Buttress |
Premium Tubing Pup Joints
Seamless pup joints with premium connections are available in API and exotic alloy grades. Premium ends are threaded by the manufacturer or authorized licensee.
| | |
| --- | --- |
| Diameters: | .75″ through 4.5″ nominal O.D. |
| Weights: | Standard or Heavy Wall |
| Lengths: | 2, 3, 4, 6, 8, 10, 12 ft. Standard |
| Grades: | J-55, N-80, N-80 Q & T, L-80, P-110 and specialty grades |
| Connections: | Premium threads available include TenarisHydril, Kawasaki, and VAM |