Inspection of Woven Scarf
Email: info@inspection-india.com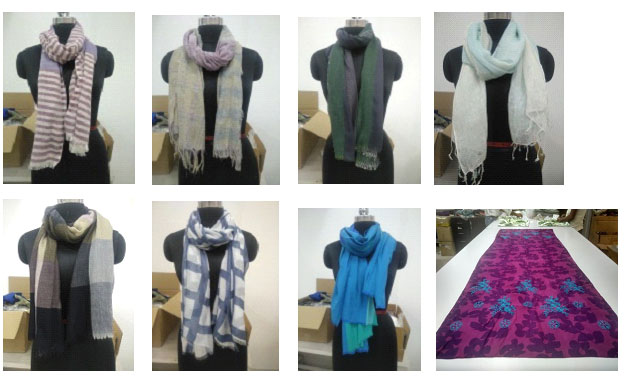 A scarf, plural scarves, is a piece of fabric worn around the neck for warmth, sun protection, cleanliness, fashion, or religious reasons. They can be made in a variety of different materials such as wool, linen or cotton. It is a common type of neckwear.
Types of Scarves
# Cashmere. # Alpaca. # Silk. # Cotton. # Linen. # Pashmina. # Fleece. # Wool.
# From the fleece of the sheep and a range of other animals, wool comes in a variety of textures and styles depending on how its woven, but is traditionally very warm and durable.
Inspection of Scarf
The scarf is very soft and warm of product. They are easily fit on person and there are different type materials used in product scarf just like – Cotton, Silk, Linen, Viscose and Modal etc.
There are different types of work on product Scarf like – Embroidery, Hand Embroidery, Printed Scarf, Woven Scarf, Pom-pom and Tassel attaching at scarf, Computer Embroidery, Laser Printing Etc.
When we start inspection, checking as per Client's PO and packing list provided by Supplier's during the inspection. The Inspector has checking quantity as per PO. Client then offering qty selected boxes and as per AQL Standard.
We will check spec sheet, Material test, shade matching, Measurement, Testing Report, Shipment sample approval, P. P. Sample approval, wash care label standard, packing and marking doing inspection.
Workmanship as per AQL Standard to be checked.
Shade matching as per Client's Requirement TL-84, U-3500 & D-65
As per Tolerance of Measurement and weight of pcs to be checked
Scarf Width & Length – Width should be from 6 to 14 inches, length from 50 to 90 inches, although an average height man wants a scarf at least 60 inches and a larger man should look for one in the 70 inch range.
Traditionally, a scarf goes tip to tip. To do this, try holding your arms out so that the scarf reaches from your left finger across to your right one. On average, this scarf will be about 60″ long. Most short scarves are 55″ long, medium scarves are roughly 70″ extended, and long scarves are about 82″ in length.
There are lots of different ways for men to wear keep their necks warm and look stylish. Putting on an infinity scarf is not one of them. … Most scarves end up getting wrapped around the neck in a cylinder anyway, so the infinity scarf simply realizes a sartorial inevitability.
The scarves come in various shapes, sizes and most essentially in various fabrics. … Scarf Universe provides scarves in various materials that are 100% pure and genuine. We offer scarves of materials like pure silk, cashmere, wool, cotton, viscose, linen, polyester and many more.
In cold climates, a thick knitted scarf, often of wool, is tied around the neck to keep warm. This is usually accompanied by a warm hat and heavy coat. … The most popular are ladies' silk scarves, cotton scarves and linen scarves.
There are three type defects Critical Defect, Major Defects and Minor Defects
Critical Defects
Any metal contamination in a product including
Pins, needles, staples, tag gun needles.
Any potentially dangerous components.
Infestation within product, packaging or cartons or evident infestation.
Missing legal requirements.
   Missing or incorrect labelling (components or percentage.
Major Defects
Incorrect barcode
Measurements out of specification (specify)
Miscellaneous items out of specification (specify)
Visible fabric defects that are likely to deter customer purchasing product
Visible sewing defects that are likely to deter a customer from purchasing product
Visible processing defects (dyeing, printing shearing, finishing etc.
Bow or skew (usually 3% on total width or 1" or2.5cms on prints.  (Off grain)
Damage to product (soiling, stains, holes, cuts, tears etc – specify
Roping at hems or seams
Missing, damaged or poorly fitting components and accessories
Incorrect fabric/material not matching the approved reference sample
Open seams or holes greater than 10mm
Raw, unbound or frayed fabric edges
Grinning seams
Sewing thread poor colour match/incompatible with base fabric
Incorrect colour match with the approved reference sample or inconsistent colouring of co-ordinating products
Missing, damaged, misleading, illegible or incorrect details on packaging, labels, instructions, warnings etc Missing, damaged, misleading, illegible or incorrect, details
Dampness, odour of mould
Broken zips
   Insecure buttonhole or cut stitches at buttonhole
Minor Defects
Inconspicuous fabric defects (pulled threads, neps, slubs, knots, irregular yarn- thick/thin places – specify that is likely to deter customer from purchasing article
Sewing defects ( stitch pucker, mis-position label, thread ends etc that is likely to deter customer
Thread ends over 2cm
Roping at hems or seams
Dirt, staining or soiling- inconspicuous small areas only
Open seams or holes less that 10mm