Medical Gloves Inspection
How to Inspect surgical, exam, household gloves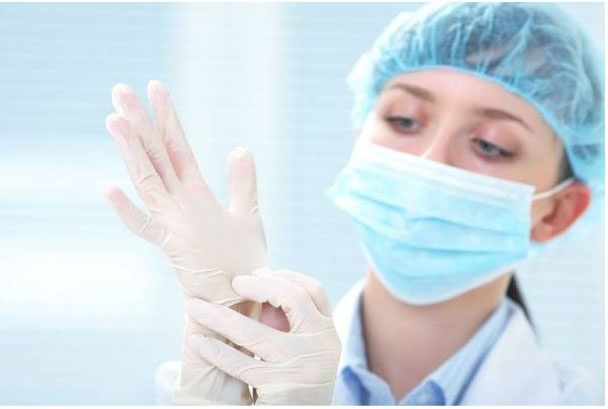 Medical gloves are an essential everyday item for all healthcare professionals working in a healthcare environment.  Gloves not only protect the wearer but they also create a safety zone for both healthcare providers and patients and makes the industry safer and easier to work in. All medical gloves are disposable, single-use items and they are available in a variety of different materials, such as Latex, Nitrile Rubber, Vinyl, and Neoprene.
There are two main types of medical gloves: exam gloves and surgical gloves. Exam gloves can be either sterile or non-sterile and are used for everyday tasks such as examining patients and handling sensitive materials. Surgical gloves are usually sterile – one pair of gloves sealed in a sterile packet – and they generally have more precise sizing in order to guarantee a tighter fit. Surgical gloves are also more sensitive which allows a surgeon or specialist to perform their operations more accurately and the gloves are manufactured to a very high standard to ensure the best possible quality.
Some of important features of medical gloves are as follows:
A medical glove is much more than just an ordinary glove. It acts as a shield of the hand and body and creates a barrier over the skin which will protect the wearer from harmful pathogens and contaminants.

Because medical gloves are skin-tight and manufactured using specialized processes, they retain grip and touch sensitivity of the hand unlike any other type of glove available. This allows medical professionals to perform even the most delicate of tasks with precision and ease.

Medical gloves are not only waterproof but also offer good levels of resistance to most chemical substances, thus providing even further protection.

Because of the varying thickness and production design of the different types of medical gloves, some models will also offer decent resistance to sharp objects and will be difficult to pierce or cut, thus protecting its wearer from needlestick injury and other sharps penetration injuries. Many healthcare professionals also choose to "double-glove" – that is; to wear two pairs of gloves on top of each to minimize penetration accidents even further.
So, as you can see, a lot of decisions and personal preference goes into choosing the right kind of medical glove for the applicable industry sector. And, as technology develops even further, we will definitely see more developments in the area of medical gloves.
Who Wears Medical Gloves?
Caregivers, Healthcare Professionals, Surgeons, Lab Techs, Catheter Users, Ostimates, Dentists, Pharmacists, Rescue Workers, Police Officers, Manicurists, Chefs, Hair Stylists, Housekeepers, Pet Owners, Gardeners, Factory Workers, Moms, Mechanics, Teachers, Food Handlers and more.
Types of Gloves
LATEX MEDICAL GLOVES
VINYL GLOVES
POLY GLOVES
INDUSTRIAL GLOVES
SYNTHETIC GLOVES
HIGH-RISK GLOVES
BLACK NITRILE GLOVES
BLACK NITRILE EXAM GLOVES
DISPOSABLE BLACK NITRILE GLOVES
Nitrile Flocklined Gloves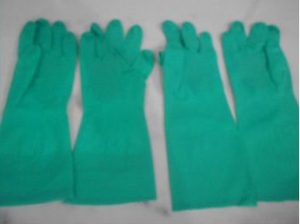 Latex Flocklined Gloves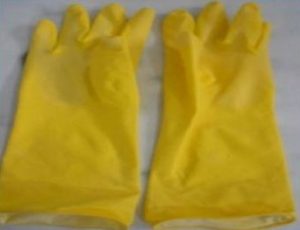 LATEX SURGICAL PRODUCT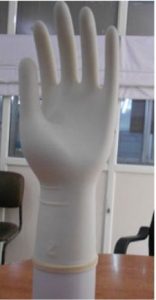 LATEX MEDICAL GLOVES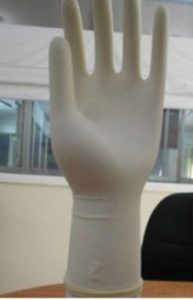 LATEST X-RAY GLOVES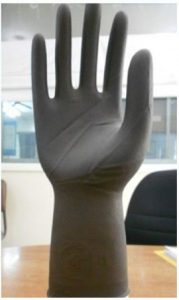 NITRILE SURGICAL GLOVES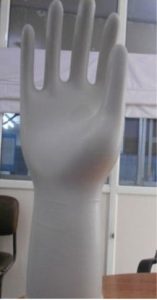 HOUSEHOLD GLOVES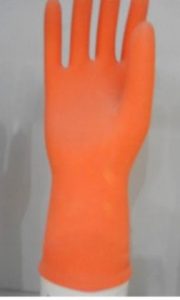 How Manufacturers Test Glove Quality
Given the many uses for disposable gloves, they must undergo rigorous inspection before they are ready for sale. In the automotive, janitorial-sanitation and agricultural industries, workers deal with a number of harsh chemicals, which means the gloves they wear must be proven to provide the right amount of protection. The same is true for medical applications, where employees need a safe barrier against pathogens.
As such, manufacturers use extensive testing to determine which applications a glove is appropriate for, with medical-grade gloves having higher standards. Here's an overview of the process:
Standards for minimum quality
Glove inspection is based on acceptable quality limits (AQL). AQL is a method that applies to batches of gloves and functions as a percentage. For example, in a batch of 100 gloves with an AQL of 3.0, only three gloves in the batch can fail the test. For medical-grade gloves, the AQL is 1.5 or lower. If more than three gloves fail, the entire batch does not meet the standard. In this case, manufacturers will review the manufacturing process to determine what requires adjustment.
Given the risks in the medical field, AQL is lower for medical-grade gloves.
"Medical-grade gloves have higher AQL standards."
Testing methods for gloves
Glove quality testing involves various inspections. The pinhole leak test, which checks for barrier integrity, is one that determines whether gloves are suitable for medical applications. This is because even the smallest breach in the glove material permits wearers from exposure to pathogens. In this test, manufacturers fill the gloves with one liter of water, close the gloves at the cuff and hang the gloves upside down. Gloves that do not have leaks during the testing period are acceptable for medical applications.
One interesting fact about disposable glove testing and AQL is manufacturers typically produce medical-grade and industrial-grade gloves on the same line. Although industrial- grade gloves also pass all standard quality testing by the manufacturer, they are not required to undergo testing for medical purposes. This is not to say industrial-grade gloves are not of safe quality, but it is simply a cost-efficient way for manufacturers to produce both types of gloves while providing the appropriate level of quality.
Regarding Quality
Since the primary purpose of latex gloves is to protect, be they for medical or industrial use, the most important property is that they must be watertight. Secondly, the gloves need to be checked for visual defects such as foreign particles, stain marks, unsatisfactory beading and excessive donning powder.
Watertight test involves pouring a fixed amount of clean water into a set of randomly selected glove samples and then observing them for leaks. The common test method written into the ASTM standards involves the use of 1000 ml water. A less accurate but faster test is by blowing up the gloves and 'feeling' for air leaks.
Visual defects are manually inspected by blowing up a sample of gloves. A more accurate method is by inspecting them over a translucent glass surface illuminated from the bottom. Defective gloves discovered are removed when found.
A good manufacturing process involves producing 'perfect' gloves without any defects but this is nearly impossible. Even standards such as the ASTM which guides manufacturers and the public acknowledge that no gloves can be 100% pinhole-free or 100% visual defect-free.
A good process strives to minimize such defects to below the maximum limits set by the standards in order that physical inspection and handling of the gloves are minimized or excluded wherever possible. In today's cost-competitive environment this is crucial to the manufacturers.
Many manufacturers worldwide pack their gloves directly from the production machine.
Check Points:
Measurement of Width
Measurement of Length
Thickness of palm
Thickness of Finger
Thickness of Cuff
Tensile Strength test
Ultimate Elongation test
Water leakage test
Air leakage test
Visual check.
Testing Process
Testing of Nitrile Flocklined Gloves
Checking functioning by inserting hand & moving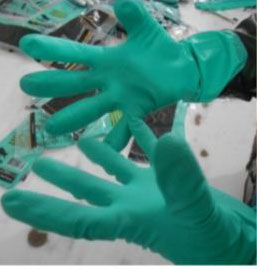 Thickness check at cuff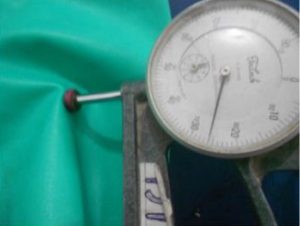 Thickness check at palm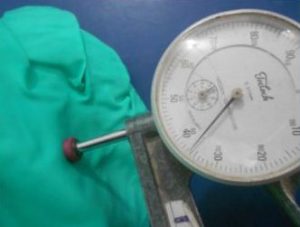 Checking functioning by inserting hand & moving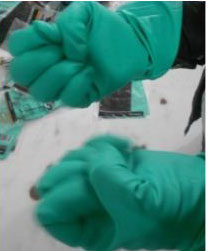 Air checking testing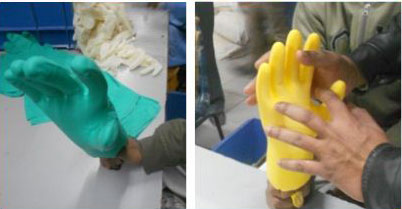 Tensile Testing
First step : Strap cut from glove for tensile testing


Second Step : Ultimate elongation checking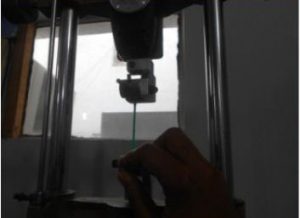 Third Step : Reading of Tensile strength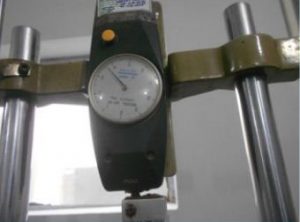 Latex Flocklined Gloves
Checking length of gloves

Fingure Mesurement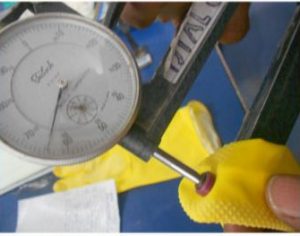 Measuring Width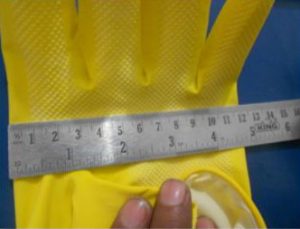 SURGICAL GLOVES
CHECKING WATER LEAKAGE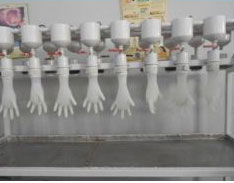 SURGICAL GLOVE-DIMENSION CHECKING (LENGTH)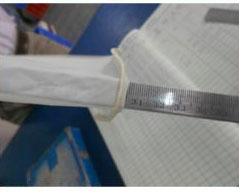 SURGICAL GLOVES:- DIMENSION CHECKING (WIDTH)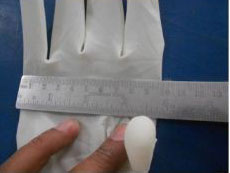 SURGICAL GROVE :-THICKNESS OF CUFF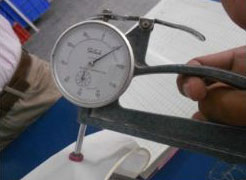 SURGICAL GROVE :-THICKNESS OF PALM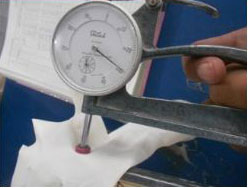 SURGICAL GLOVE :-THICKNESS OF FINGER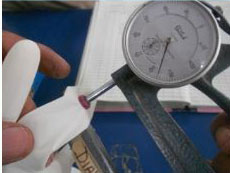 SURGICAL GLOVE :-GLOVES CHECKING